New Dwarf Trees Set to Revolutionize Palm Oil Market
Photos and video by Joshua Paul
Commissioned by Bloomberg
Plant scientist Meilina Ong Abdullah treads between neat rows of young palms and points to a petite variety that she says may help revolutionize a $19 billion Malaysian export crop.
The dwarf trees at a government research center in Malaysia's southern state of Johor are clones of a new variety bred to be 30 percent smaller than regular oil palms when they mature. That's a significant advantage for farmers harvesting the red and orange fruit that can grow between thorny fronds up to five stories high.
Seedlings of the Clonal Palm Series 2, or CPS2, variety -- which can cost up to two times more than conventional plants -- are being rolled out by the Malaysian Palm Oil Board, the agency responsible for promoting and developing the country's most valuable agricultural export. The release of CPS2 is largely in response to a labor shortage and the shrinking availability of land for new plantations.
"Plantations need compact and dwarf materials to maximize their land use," says Meilina, head of the board's breeding and tissue culture unit, as she watches a colleague measure the distance between trees under the hot equatorial sun.
CPS2, whose smaller size enables farmers to grow more trees per hectare, may also help counter another challenge for palm oil: Sustainability.
The commodity, used in everything from chocolate and cosmetics to car fuel, is mired in controversy as native tropical rain forests inhabited by orangutans, rhinoceroses and other endangered species have increasingly made way for oil-palm groves. In Malaysia the groves cover 5.8 million hectares (14.3 million acres) -- an area more than twice the size of Massachusetts -- as well as 12.3 million hectares of neighboring Indonesia.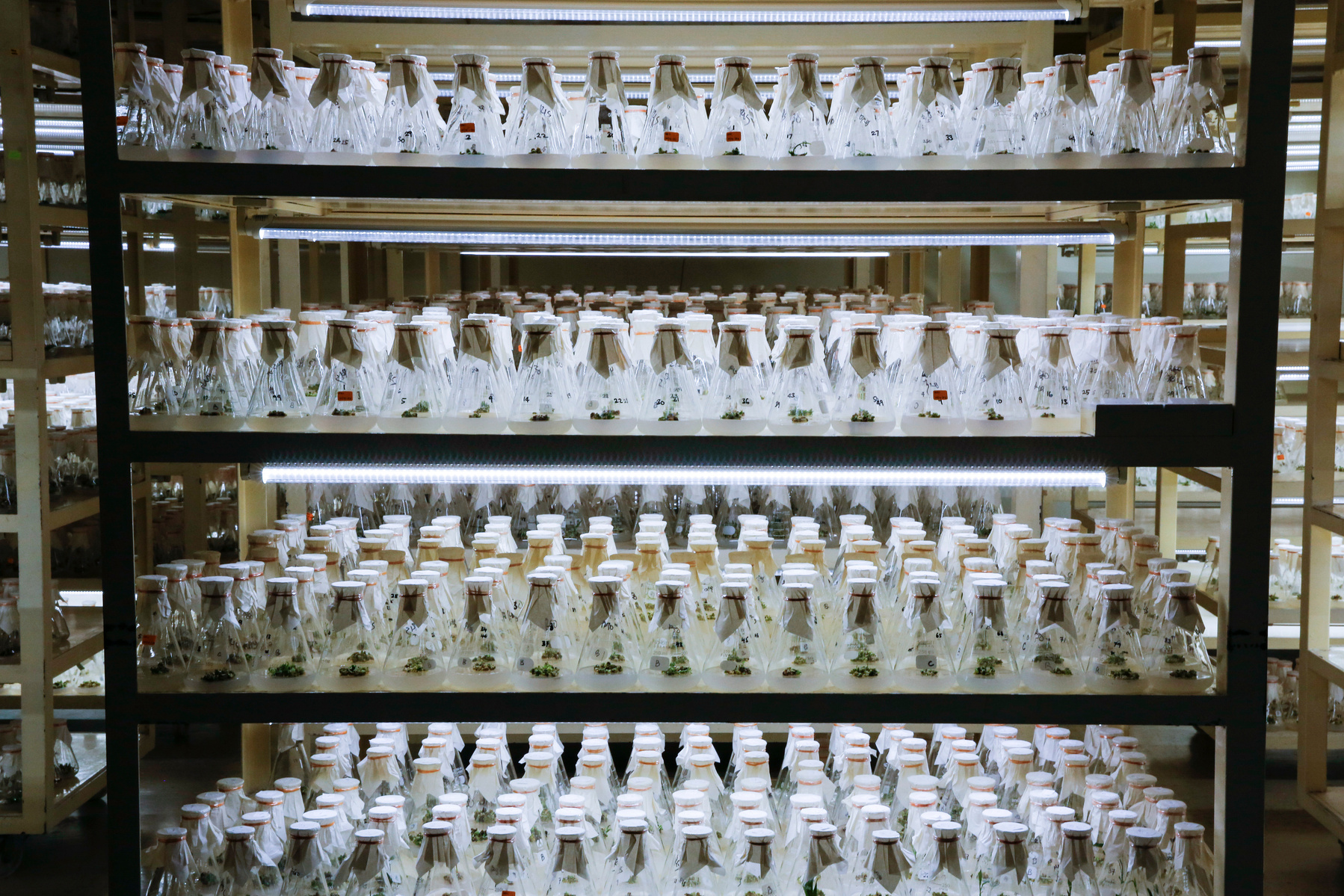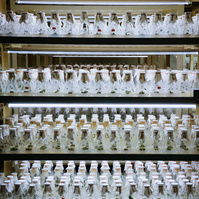 Longer Life
CPS2's shorter fronds enable farmers to plant as many as 36 percent more seedlings an hectare without reducing photosynthesis or yield quality. Meanwhile, their slower growth can add a decade to the economic life of a plantation, which is typically 25 years, according to Meilina. "We have been trying to improve yields over the years and at the same time we want to be sustainable," she said.
Non-governmental environmental organization Greenpeace accused 25 palm oil producers last month of clearing more than 130,000 hectares of rain forest, including 51,600 hectares in the Indonesian province of Papua, since 2015.
Indonesian President Joko Widodo ordered his government last month to halt issuing permits for new palm oil plantations and the expansion of existing ones for three years, while Malaysia's government pledged to maintain its forest cover at 50 percent.
"Efforts to make more productive use of land already cleared for cultivation, rather than expanding industrial plantation areas through land-grabbing, forest-clearing or peat drainage, is critical," said Annisa Rahmawati, Greenpeace Southeast Asia's senior forest campaigner, in an email. Still, productivity improvements do nothing to address the deforestation that's already occurred, she said.
Safer Harvests
CPS2 is capable of producing about 35.7 metric tons of oil-palm fruit per hectare, about twice the Malaysian national average, Meilina said. What's more, its shorter stature makes harvesting safer and more efficient.
Fruit on palms taller than 4.9 meters are too high to be mechanically harvested and are usually left to rot if workers aren't able to reach them with elongated sickles. About 10 percent of fruit bunches rot each season because of a labor shortage and lack of skilled workers who can cut down fruit from older, taller trees, according to industry estimates.
"Although we have harvesting poles that can reach a certain height, you need very high-skilled workers to be able to harvest from those tall trees," Meilina said. "By having dwarf materials, we can easily train people."
Rabobank International predicts that palm oil production in Indonesia and Malaysia, which accounts for about 85 percent of global supply, will decline after 2022 because of limited land availability and dropping yields in aging plantations, and if replanting is sluggish in Indonesia.
Aging Palms
"Aging palm-oil tree issues have resulted in lower year-on-year monthly Malaysian palm oil yields since May," the Dutch bank said in a Sept. 28 report.
While the Malaysian Palm Oil Board ramps up commercial production of CPS2 seedlings -- which cost 25-to-30 ringgit apiece, compared with about 15 ringgit for conventional plants -- scientists are studying genetic variations that may confer resilience against disease and extreme weather, Meilina said.
That could lead to new iterations of a variety originally from Nigeria that stood out by being small, but high-yielding, in a crop improvement program that began more than 40 years ago.
"We're now trying to identify the best material among the CPS2 and look at it at a molecular level," Meilina said, gazing across the trees that she and her colleagues cloned in the laboratory a dozen years ago. "We never actually thought that we would have this compact planting material in the field."